Field Day Results - Gonzales, CA
Field Day Results - Gonzales, Ca

AG SOILWORKS CALIFORNIA conducted a field day at Gonzales, California where we had the opportunity to present a side by side trial of our CAT 865 (500HP) using our patented Ag Soilworks Vibrosoiler vibrating ripper up against a D8R using a traditional slip plough with both units ripping at 3ft depth.
An independent study was undertaken by Dr Alf Cass, soil scientist pictured right, with extensive soil pitting at three (3) different locations.
VIBROSOILER VIBRATING RIPPER vs TRADITIONAL CROSS RIPPING SLIP PLOUGH
Increased Root Development - Vibrosoiler creates uniform soil bed for uniform plant growth & development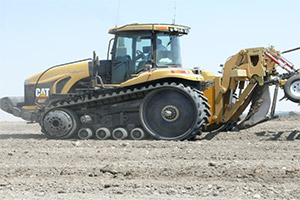 With over 10 years experience in vineyard, orchard and forestry development, the Soilworks method of soil amelioration has been shown to create a uniform soil bed for plant growth and root development. In all types of developments our growers consistently achieve accelerated plant growth and uniform development of crops within each block. Using the Vibrosoiler we can concentrate all the organic matter and top soil to the planting line which means increased uptake of nutrients by the plant. Plant roots are directly concentrated in the ripping line directly under irrigation which produces larger root systems and increases the drought tolerance of the plant.
Traditional Cross Ripping using a Slip Plough
Traditional ripping methods are commonly used with most commercial crop developments in the US because, up until now, there has been no alternative options for the grower. Cross ripping is ideal if you want to 'plough' a field but if you are planning a commercial crop development you should consider all your options. Cross ripping works the general area only with no specific attention to the block and planting layout.
This 'hit and miss' approach often results in many vines planted in unworked ground. Developments undertaken using a slip plough ripping process generally display shallow rooted vines, with poor drought tolerance and limited access to organic matter and nutrients.
---
WHY IS AG SOILWORKS SYSTEM SUPERIOR?
SOILWORKS VIBROSOILER - EXCELLENT RIPPING RESULTS
Soil compaction reduced significantly producing good consisten planting bed. As soil flows over the vibrating wing it crumbles as it falls. The movement promotes the blending of compost and ameliorants down into the profile . Two passes produce a consistent tilth with ameliorants blended into the profile to 3ft.
---
First Pass - ripping to depth, delving an open trench
Addition of amendments and organic matter directly into trench with spreader • straddling the row
Second Pass - Ripping & Bedding
Deep rip, blend amendments to depth, pull ready to plant berm
---
SOILWORKS ADVANTAGE OVER CONVENTIONAL RIPPING METHODS
Vibrosoiler ripping produces 4 - 5 times soil breakout volume in a single pass than a traditional slip plow
Produces soil consistency and a uniform 'ready to plant' bed
Increased root development and larger root zone
2 Pass System - no further cultivation required

SLIP PLOW PITFALLS
Soil profile recompacts and mixes subsoil into top soil
Soil is unworked resulting in poor root development
Planting bed lacks uniformity
Extra passes required before planting
Traditional Slip Plow Ripping - leaves an uneven ripping result with compacted soil zones and a lumpy finish
The images below show traditional slip plow ripping in comparison to the Ag Soilworks Vibrosoiler ripper above. As shown below left the bulldozer drives over the ripped row recompacting the ripping line in the process. The center image shows the ripping shape produced by the slip plow which is uneven with only every second 20" being ripped leaving 20" unworked. Within the soil pit analysis we used a penetrometer to determine the quality of ripping and found the bulldozer showed a limited effect in reducing soil compaction with variable results leaving the soil consistency uneven with compacted zones and lumpy boulders throughout the soil profile. There was no blending of broadcast compost and ameliorants into zone.
---
For more info see "Gonzales Field Day".
---
Root Zone Management Plant Ready System
2 Pass System - 4' »
3 Pass System - 4'+ »
4 Pass System - 5' »